MB Consulting Winner of Best Luxury Boutique Real Estate Brokerage in Portugal 2022 and 2023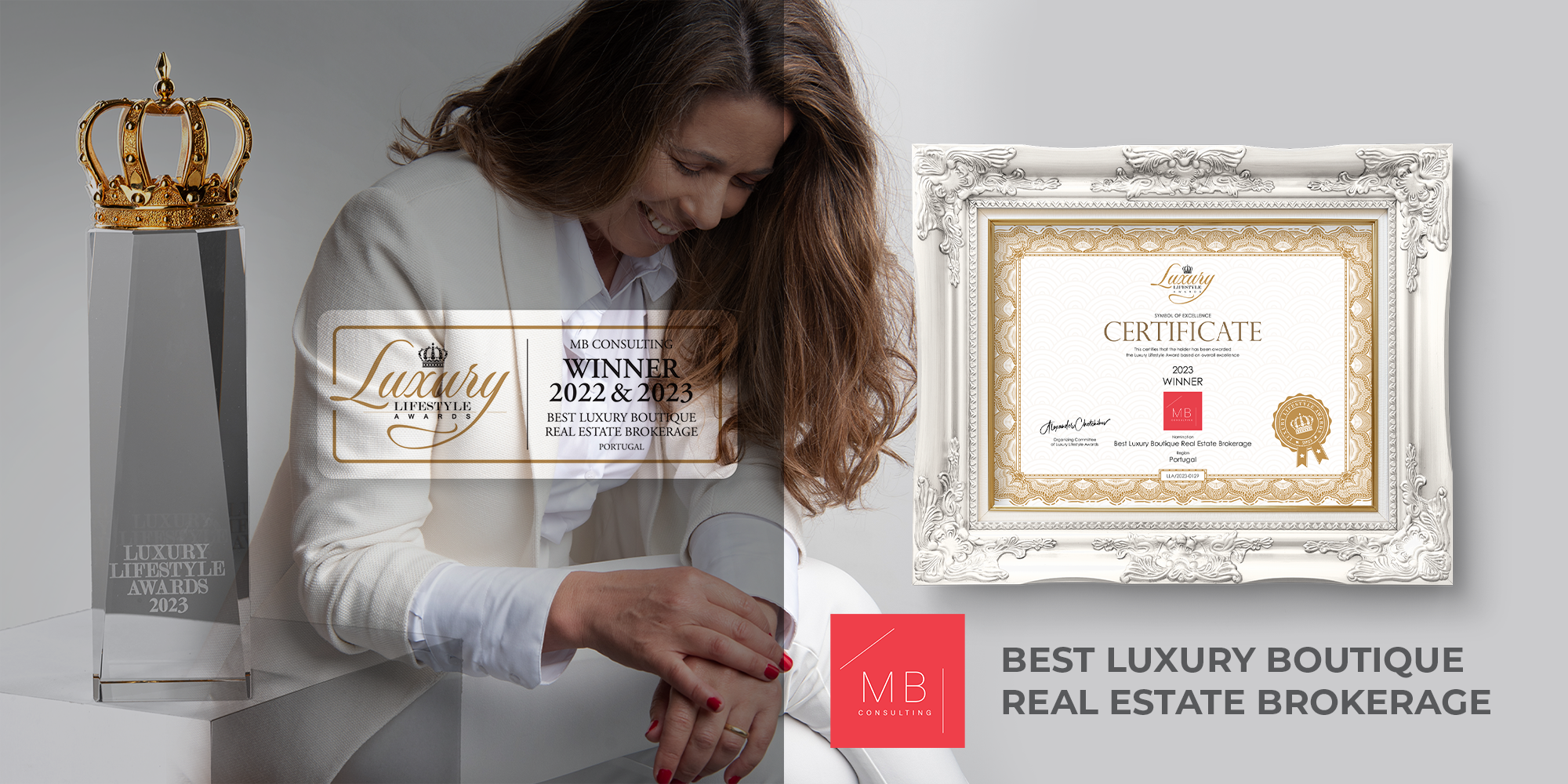 MB Consulting Empowers Investors with Unparalleled Services and Opportunities in Portugal's Thriving Real Estate Market
Maria Bravo Consulting (MB Consulting) is a leading luxury boutique real estate brokerage in Portugal. This year, the remarkable company has won a Luxury Lifestyle Awards for the 2nd, consecutive year, in the category of Best Luxury Boutique Real Estate Brokerage in Portugal.
Since its establishment in 2021, MB Consulting has firmly established itself as a prominent player in the Portuguese real estate market. The company, under the leadership of Maria Bravo, CEO and Manager, and Marcílio Alves, Marketing Director, has earned a reputation for excellence and exclusivity in the industry.
Maria, who is fluent in both English and French, dedicates her efforts to collaborating with real estate industry partners and serving international clients. With vast experience in real estate and the financial sector, Maria has garnered invaluable skills and innovative techniques, implementing fresh ideas in her business endeavors.
With a focus on prioritizing the customer experience, MB Consulting ensures that clients receive unparalleled support and guidance from the moment they set foot in Portugal until they return home. The company has built its firm on a foundation of honesty and integrity, leadership, respect, and quality. Their primary aim is to provide exceptional opportunities with mindfulness while upholding strong business ethics and respecting the market environment. Maria and her team also strongly believe in adding a personal touch into all aspects of their work, ensuring a unique and meaningful experience.
Recognizing that buying or renting a home can be a stressful process, MB Consulting has invested in a comprehensive Customer Experience Management system that encompasses pre-investment and post-investment stages, providing continuous advice and support.
"We are honored to receive this Luxury Lifestyle Awards for the second time," said Maria Bravo. "At MB Consulting, we believe in creating long-lasting and fulfilling relationships with our clients. We are very proud that 70% of our clients come to us through referrals, which is a testament to our reputation and the satisfaction of our valued clients."
MB Consulting's success is further amplified by its global network, which connects the company to business partners and international buyers. This extensive network ensures that clients have access to a wide range of luxury properties and investment opportunities, both in Portugal and beyond.
To learn more about MB Consulting, visit their website at https://www.mariabravoconsulting.com/
About Luxury Lifestyle Awards
Luxury Lifestyle Awards is a global award selecting, recognizing, celebrating and promoting the best luxury goods and services all over the world. The goal of the company is to connect people with the best of luxury. LLA has evaluated more than 10 000 various goods and services in 400 categories from 60 countries and analyzed the results to give you a TOP list of the best of the best in the world. Such world-renowned brands as Chanel, Dom Perignon, and Ferrari were proudly named winners. The victory brings companies status and recognition, global promotion and exposure to an entirely new market of customers.
For more information, please visit: https://luxurylifestyleawards.com/
Like us on Facebook: https://www.facebook.com/LuxuryLifestyleAwards/
Join us on Instagram: https://www.instagram.com/luxurylifestyleawards/