The 10 Most Expensive Streets in Portugal
Luxury Homes for Sale: These Are the 10 Most Expensive Streets in Portugal
The real estate market in Portugal has witnessed a steady increase in house prices over several years. Within this landscape, some streets stand out for concentrating an exclusive selection of luxury homes for sale. One of these real estate gems is the prestigious Rua Garret, located in the heart of Chiado, Lisbon, where the average price to purchase a home reaches an impressive €4,404,545. This figure represents, at the very least, the median expectation of property owners for homes available on this street.
According to a study conducted by Idealista, a renowned real estate marketplace in Portugal, the top ten streets with the most expensive houses are predominantly situated in the Lisbon district. While these properties remain out of reach for the majority of both national and foreign families due to their high purchasing power, it is interesting to acquaint oneself with the data concerning these exclusive areas.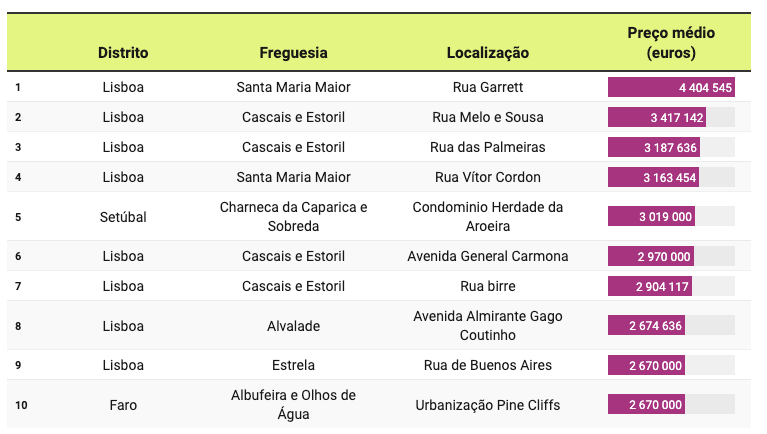 At the pinnacle of the ranking of streets with the most expensive houses, aside from Rua Garret, are Rua Melo e Sousa in Estoril, with an average price of €3,417,142, and Rua das Palmeiras in Quinta da Marinha, Cascais, where the median price is €3,187,636.
In the fourth position, we find Rua Vítor Cordon in the parish of Santa Maria Maior, Lisbon, with an average price of €3,163,454. Following this, there is the exclusive Condomínio Herdade da Aroeira, located in Charneca da Caparica, with homes available starting at €3,019,000, and Avenida General Carmona in Estoril, where the average price for luxury homes hovers around €2,970,000.
The seventh position is occupied by Rua Birre, situated in Cascais, with homes for sale at an average price of €2,904,117. Completing the list of the top ten most expensive streets to purchase a house, we have Avenida Almirante Gago Coutinho in Alvalade, Lisbon, with an average value of €2,674,636, Rua de Buenos Aires in Estrela, Lisbon, with median prices of €2,670,000, and the Pine Cliffs Development in Albufeira, also featuring houses for sale at around €2,670,000.
 It is important to note that this study was conducted by considering the absolute average price of apartments and houses advertised on each street. To ensure data accuracy, only streets with a minimum of 10 advertisements were included, avoiding the inclusion of duplicated properties. It is worth emphasizing that the list presents the average prices of the streets, not necessarily representing the most expensive houses in each market.
If you would like to learn more about the real estate market in Portugal or need specific information regarding buying, selling, renting, or investing, please feel free to get in touch with one of the consultants at MB Consulting.
Source: Idealista.pt